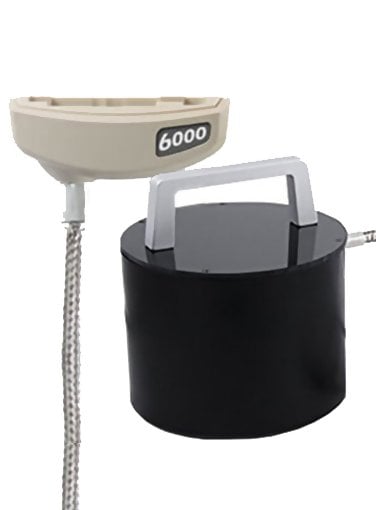 ---
Display Sold Separately
---
ThePosiTector 6000consists of a body and a probe. A wide selection of interchangeable probes are available. All bodies accept all probes.
Measures very thick coatings on ALL metals. Ideal for measuring ship hull coatings and thick intumescent paints.
Measures up to 63.5 mm (2.5 inches)
Measures non-conductive coatings on both ferrous and non-ferrous metal substrates
Braided stainless steel cable - kink-proof, wear and cut resistant
Long-lasting, low wear probe face to facilitate scanning of large surfaces
Includes a handle for easy one-handed operation
Includes a set of traceable coating thickness standards
Includes instruction card
Range:
0 - 2.5 inches
0 - 63.5 mm
*Accuracy:
(0.01 in. + 3%)
(0.2 mm + 3%)
Minimum Surface Area:
10 x 10 in. (254 x 254 mm)
Minimum Substrate Thickness:
0.2 in. (5 mm)
Weight:
0.8 lb. (0.4 kg)
*Accuracies are stated as a fixed value plus a percentage of the gage's actual reading.

FAQ's - Frequently Asked Questions

Click to View DeFelsko PosiTector 6000 Frequently Asked Questions

Related Products


Downloads